---
{{item.currency}}
{{pricing}}
---
---
{{item.currency}}
{{pricing}}
{{item.currency}} {{item.normalPrice}}
---
{{item.currency}} {{pricing}} - Out of Stock

CANOEING ON LAKE CHRISSIE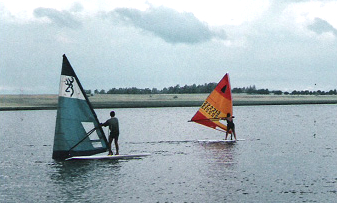 Bring your own canoe, windsurfer, cat or any other rowing gear. Some of the guest houses supply some of this rowing equipment, ask them about it.
NO MOTOR BOATS ALLOWED
The rainfall and the level of the pans and lakes play a very important role in canoeing in the Lake District.
Many of the more shallow pans dry up every winter if the summer rainfall wasn't enough.
The big lake, Lake Chrissie, is much deeper and the water level are much more stable. The lake is 1500 ha big and 5 m deep at the deepest point.
Permition to go on Lake Chrissie can be obtained from:-
1. Miss Chrissies Country House, call Aretha on 082 821 3081
2. Genesaret Kamp terrein, call Dirk on 017 847 0094
3. Celia Beukes 082 449 6551