---
{{item.currency}}
{{pricing}}
---
---
{{item.currency}}
{{pricing}}
{{item.currency}} {{item.normalPrice}}
---
{{item.currency}} {{pricing}} - Out of Stock

A true love story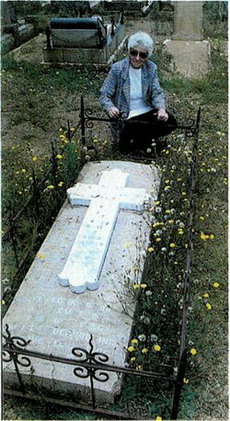 In the graveyard at Chrissiesmeer is one grave amid yellow veld flowers that appears distinctively different from the others. It is the only one enclosed by a fence and it has a flat, white marble cross in the middle.
The grave belongs to Arthur William Swanston, a young lieutenant from the Innskilling Dragoons who was killed on 10 October 1900 while endeavouring to save the life of a Private J. Garlick during the Anglo-Boer War. Garlick and two others were killed at the same time and are buried close by.
What is touching about Swanston's story is not only his deed of heroism, but also the way he was remembered and honoured by his fiancée back home in Scotland. For 65 years after the war she sent flowers to the postmaster of Chrissiesmeer with a request to put them on Swanston's grave. They always arrived during the month of October. One year she'd send blue heather and the next year pink, always wrapped in the most beautiful matching ribbons. The post office also took responsibility for the upkeep of the grave and regularly painted the fence silver.
When the fiancée was in her early eighties she sent a letter with the bouquet explaining that, because of ill health, it might be the last time she would be sending flowers. She expressed her gratitude to the Postmaster of Chrissiesmeer, Rensie van Rensburg, and her predecessors for their assistance over the years. After that the flowers arrived just once more. One can only but wonder who this unknown woman was and how the loss of her fiancée shaped her life.
During those years that the flowers came, the Post Office and the Primary School, made a special occasion of it. They always cared after the grave and had a special annual ceremony when putting the flowers on the grave.
Now at every wild flower day the people of Chrissiesmeer still honour this love story by putting wild flowers on the grave at those days.
During the recent (2005) Engen 'Village of the Year' competition SABC 2 broadcast the story and received an overwhelming response. One man said he was so inspired by it that he had decided to become a better person.
It has been written that what makes life meaningful is not what happens to you, but what happens between people. This seems to be true even in death.
Annette van der Merwe
Email from Dorothy Swanston
On 11 Oct 2014, at 1:42 PM, Swansbeck5@aol.com wrote:
I have recently learned that the people of Chrissiesmeer kindly put flowers on the grave of my late husband's uncle each year, namely Arthur William Swanston killed 16th October, 1900. I thought you might like to know that my late father-in-law, Arthur's youngest brother told me years ago that Arthur had gone off to fight in the Boer because his father, John Swanston of Marshall Meadows, had not approved of the woman he wanted to marry and had forbidden the wedding. This makes the subsequent annual delivery of flowers from her even more poignant! We have copies of the many letters of condolence sent to Arthur's parents (some from his commanding officers in the field) and not one mentions a fiancee so I'm sure my father-in-law was correct and she was not acknowledged by the Swanston family and friends.
I have his leather bound photo album (he is so good looking that he stands out in every photo!)) with the condolence letters and now details from the internet of the South African interest in his grave are kept with it. So glad I found them as I am now 82 and the whole story might never have been known to you.
My late husband, Miles, and I have lived quite close to Marshall Meadows in Scotland for many years and I would like you to know that I and my son, John, Arthur's great nephew, are most touched to know that this fine athlete - he was a Cambridge rowing blue at Jesus college - is remembered by you all in this way.
Best wishes, Dorothy Swanston.
Email from Dorothy Swanston
From: Swansbeck5@aol.com
Subject: Lieut Arthur Swanston.
Date: 24 October 2014 at 12:04:29 PM SAST
To: mb.lignaut@vodamail.co.za
Cc: butlerfamilie@telkomsa.net, nico@florence.co.za

Thank you so much for your attachments, some of which were known to me. The knowledge of such interest in Arthur has come as a complete surprise so I must ask for time to assemble what info I can. I have twice asked the Inniskillings for copies of the handwritten letters sent from the field in 1900 which we gave them for safe keeping and will persevere until I get a response. I have also asked Arthur's old school, Loretto, for a copy of his record there as I know it contained details of his subsequent rowing successes at Cambridge, but it is half term at present so no staff available.
My late father-in-law, known as Eric, was the only one of Arthur's five brothers to have children, so Miles, my late husband (whose older brother was killed in the RAF in WW2), my son John and his son Alexander are the only Swanstons left of that branch. Miles was the youngest child of Eric who was also the youngest child so there is no-one left of my generation I can ask for information which is why it is taking me some time to gather it in from outside sources.
There was a photo of Arthur in uniform but I think that went to the Inniskillings as well. I do have a formal album belonging to Arthur full of him in rugby teams, rowing teams, etc. but no individual photos. I will take advice on getting suitable ones scanned and sent to you and would hope to be able to add more details soon.
I re-iterate that we are most touched to know of your enduring interest and care for Arthur's grave after all these years.
I am not sure why Mr. Butler has an interest in Arthur. Is there any connection?
I'll be back in touch as soon as possible.
Kind regards, Dorothy Swanston.
Email from Theo Butler
Na 'n besoek en kuier op Chrissiesmeer in 2013 waartydens ek soos my gewoonte is, die oorlogsgrafte in die area besoek het en die storie van die verloofde gehoor het, gepoog om meer oor die verloofde uit te vis. Dit het onder meer gelei tot kontak met die Bibliotekaris in Berwick-on-Tweed wie vir my van die koerant berig van 1900 voorsien het. Daarna het ek by die twee plaaslike koerante aangeklop. By een was een van die persone nogal 'n Swanston maar ek het geen reaksie van haar gekry nie. 'n Joernalis, Kirsty Smyth, het die versoek hanteer en in beide koerante was daar toe 'n berig geplaas. Daar was geen terugvoer oor die berigte totdat Dorothy se e-pos opduik wat blyk moontlik die resultaat te wees van hulle soektog op die internet.

Ek het ook versoeke gestuur aan die Inniskilling museum in Ierland waarvandaan ek verwys is na die museum van die Royal Dragoon Guards wat later die geskiedenis van die Inniskilling Dragonders bygehou het. Eersgenoemde is die resultaat van 'n boek wat ek op die internet opgespoor het maar nie 'n kopie van het nie :

There is a delightful book by Lieutenant Colonel J Watkins Yardley, CMG, DSO, called 'With the Inniskilling Dragoons'. In the fight at Tevreden, near Lake Chrissie, "Lieutenant Paterson behaved with great dash, being slightly wounded as he galloped, unfortunately unarmed, alongside Commandant Smuts himself". After describing the gallantry of the Inniskillings, and the heroic death of Lieutenant Swanston, Colonel Yardley says: "Lieutenant Swanston and our other dead were buried at sunset at the foot of the Tevreden Hills, close by which I lay wounded, with Lieutenants Paterson and Harris. The sadness of it I shall never forget, with no feeling of victory to cheer the heart — only regret". And later: "Lieutenant Paterson, shot through the thigh at Tevreden, pluckily returned to duty; but this inflamed his wound, and he was invalided home in consequence".

Annette vd Merwe, wie die oorspronklike storie geskryf het, het ook by die RDG museum aangeklop met navrae oor die verloofde.

Ons weet darem nou dat die verloofde nie die familie se goedkeuring gehad het nie. Die pa van Lt Swanston was skynbaar eng betrokke in die kerk - my afleiding daar een van sy huise afgestaan is om teoloë te huisves. Dit kan dus wees dat die verloofde nie aan die geloofs vereistes van die tyd en familie voldoen het nie. Die Inniskilling Dragonders was in Ierland en dit kan wees dat die vrou vandaar gekom het en 'n katoliek was. Ons sal nie weet nie. Wat ons wel weet is dat sy haar verbintenis, toewyding en liefde ten spyte van die res van die Swansston-familie se houding, getrou gestand gedoen het. Voorwaar 'n voorbeeld vir baie.
Email from William Miller
On 15 Mar 2015, at 12:10 PM, William Miller wrote:
Dear Residents of Chrissiesmeer,
My name is William Miller, a distant cousin of Dorothy Swanston and I'm helping her to try to identify Arthur Swanston's lover. This story is all the more extraordinary if you also become aware of the story of Arthur's grandfather James Swanston (1798-1855). Historically the family were middle class tenant farmers in the Scottish borders who had begun educating their children at university. One such was William Swanston (born. 1764), an uncle of James, who trained as a doctor and was appointed a surgeon in the new British colony of St.Kitts in the caribbean. At the same time the agricultural revolution in Scotland was causing many smaller farms to be amalgamated to increase efficiency, and James Swanston' father, Peter, found himself without a renewed tenancy.
Therefore, in 1812 Peters's son James (Arthur's grandfather) decided to sail from Scotland to St Kitts to try to find work with his uncle. He got as far as the Canary Islands where, on 29 August, his ship CONCORD was captured by a French privateering vessel called MARENGO. Luckily the captain, John Ordronaux, was relatively gentlemanly and James was landed safely on the island of Grand Canary. However, poor James was only 14 years old, without money, and with no means of contacting his family.
A frenchman called Francisco Gourié, who had suffered the same fate of being captured by privateers on an earlier occasion, took pity on the young James Swanston and gave him a job as an assistant in his merchants shop. James thrived in the business and learnt how to buy and sell commodities for himself, and in 1820 he set himself up in business as an import/export merchant with capital lent to him by Gourié. This business thrived and in 1824 James invited my (19-year-old) great great grandfather, Thomas Miller to sail from Scotland and join him in the business. By the middle of the 19th century James Swanston had made a fortune trading in commodities such as textiles, soap, agricultural supplies and cochineal dye (used to colour the red tunics of British soldiers) and he decided to return to Scotland and purchase the large house called Marshall Meadows near Berwick-on-Tweed where his grandson Arthur was born. Two books have been published (by my father and I) describing this story and how the Swanstons and Millers stayed in the Canaries, continuing the business and representing the British Government as Honorary Consul during which time they entertained three members of the Royal family as well as King Alfonso of Spain.
A branch of the family emigrated to New Zealand, one of whose members, Mark Cossar-Miller volunteered to fight in the Boer war. Did he know Arthur Swanston - we don't know? Carr Miller (1882-1962), a great nephew of the Thomas Miller who partnered James Swanston in his original business, emigrated to South Africa and farmed in South Shepstone, Natal, and we would love to find out about him as we know almost nothing.
I can send you copies of the two books which contain photos of Arthur's parents John and Fanny and their lovely house Marshall Meadows and many other details. The children at Chrissiesmeer school might like to see them.
Can you give me a postal address to send them?
Thank you so much for looking after Arthur's grave and his lovely story so well.
With love from William Miller (archivist and historian of the Miller family) x